Use leftover Maple Belgian Waffles to create these sweet and savory sandwiches.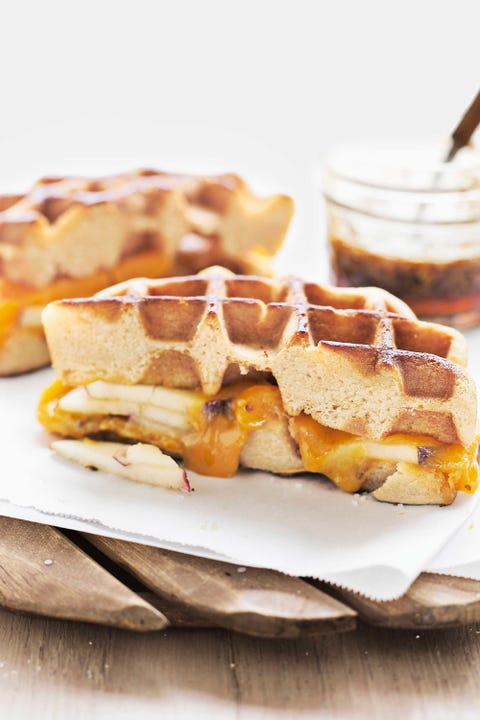 2 tbsp.
coarse-grained mustard
4
leftover Maple Belgian Waffles
3 1/2 oz.
grated sharp cheddar cheese
In a small bowl, mix mustard and maple syrup.
Spread mixture on one side of four leftover waffles. Place 1 3/4 ounces grated sharp Cheddar cheese (about 1/2 the cheese) on two of these waffles.
Thinly slice apple and divide between same two waffles, layering atop cheese. Sprinkle another 1 3/4 ounces grated sharp Cheddar cheese over apples. Top with remaining two waffles, spread-side down.
Place panini in a lightly oiled large skillet over medium-low heat. Set a plate or cake pan on top of panini and weigh down with food cans. Cook until waffles are toasted and cheese melts, about 8 minutes, turning after 4. (Alternatively, use a panini press and cook according to manufacturer's instructions.) Slice panini in half.
Source: https://www.countryliving.com/food-drinks/recipes/a3343/apple-cheddar-waffle-panini-recipe/