Apple Cinnamon Baked Oatmeal features tender apples, warm cinnamon, and sweet maple syrup for a wholesome breakfast that's sure to become a new favorite!

Y'all already know that I'm a baked oatmeal aficionado, so it should come as no surprise that I've concocted a new seasonal rendition for you.
Three cheers for Apple Cinnamon Baked Oatmeal! It's loaded with chewy oats, studded with chunks of apples and crunchy pecans, spiced with cinnamon, and sweetened with maple syrup…and it's the perfect way to warm up on a chilly (or not chilly) morning!
But juuuust in case you're new to the whole baked oatmeal phenomenon…
How to Make Baked Oatmeal
I'm happy to report that it is extremely quick and simple to make. First, stir together the ingredients — typically rolled oats, some sort of milk, a couple of eggs, a natural sweetener like honey or maple syrup, fruit and nuts (if desired), and flavorings or spices. I also like adding some melted coconut oil to give an extra boost of nutrition to my baked oatmeal.
After your ingredients are well-combined, simply spread the mixture into a greased baking dish and pop it in the oven until set and golden on top. Then slice and serve warm! I typically like to top mine with a sprinkle of toasted nuts.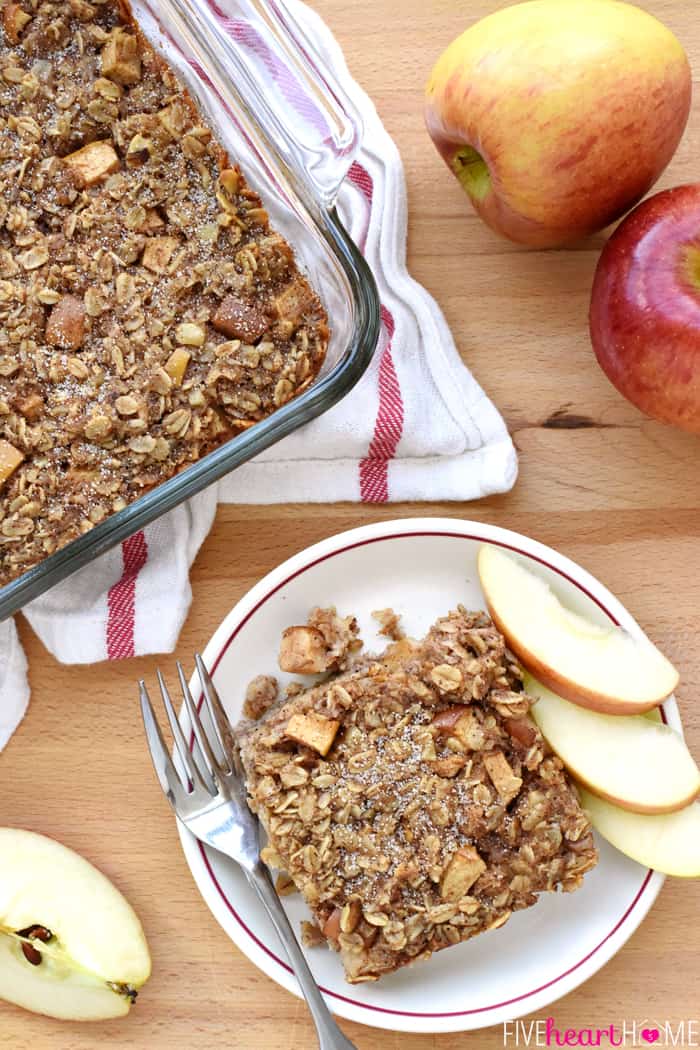 But Why Make It?
1. It's quick and easy to make.
2. It's an ideal make-ahead breakfast. Not only is it tasty fresh from the oven, but it's also delicious the next day (or the day after that, if it lasts that long), because it reheats beautifully with a splash of milk.
3. It's tasty and easy to customize. All three of my kids love it, and
y'all
, that's saying a lot.
5. It's wholesome, filling, and full of healthy ingredients…AKA, the perfect breakfast for staying satisfied until lunchtime!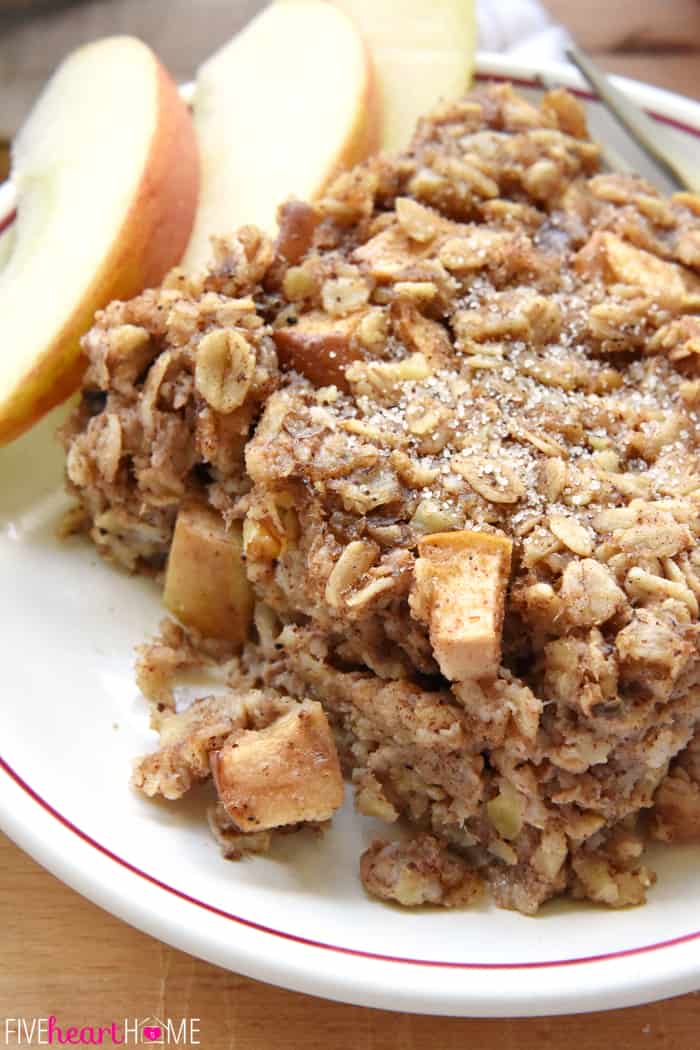 This Apple Cinnamon Baked Oatmeal is filling, wholesome, and lightly sweetened. I think it's delightful as is, but feel free to serve it with an additional drizzle of maple syrup, should you feel so inclined.
Just don't tell my kids I said that.
Oh, what does it matter? They'll be too busy fighting over the last piece to hear you anyway.
So whatever the temps in your neck of the woods, this recipe is a perfect breakfast any time of year! It's yummy and nourishing, it's easy to make and quick to reheat. In fact, it's pretty much the oatmeal incarnation of a crisp fall day…and for those of us currently subjected to sweltering heat, that's about as good as we're going to get until mid-November. 😉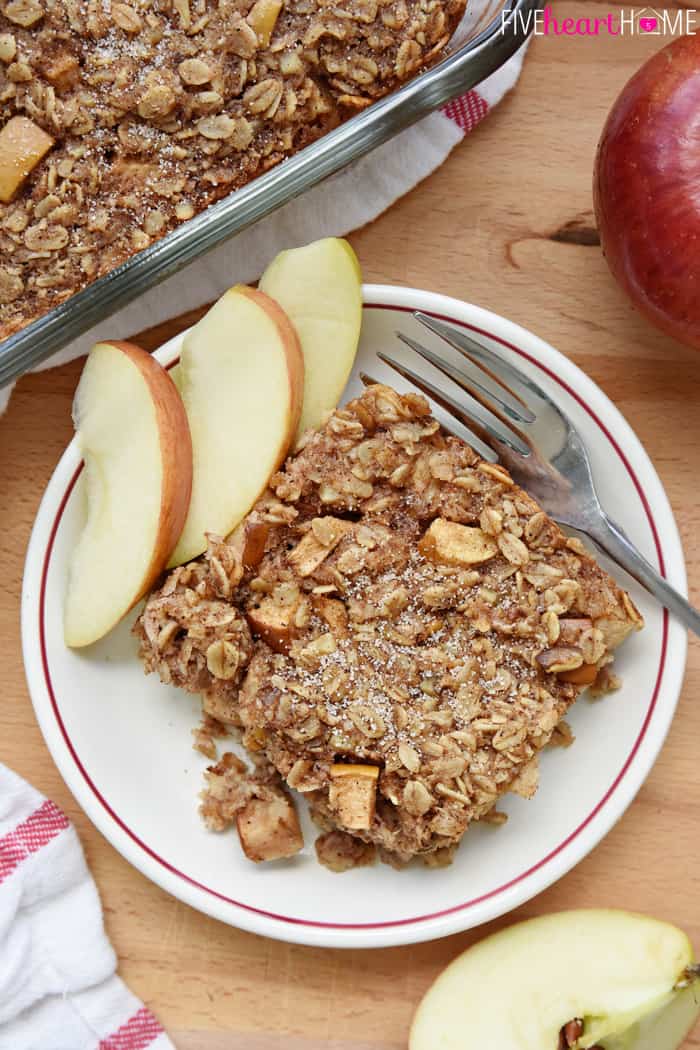 Helpful Tips, Tricks, & Equipment
I used a Braeburn apple because that's what I had on hand. You can leave on the skin (I do) or peel the apple, if you prefer. Also, I used whole milk and unsweetened applesauce. But feel free to swap out your favorite type of milk and/or sweetened applesauce, if you wish.
You may also substitute a different type of neutral oil (or melted butter) for the coconut oil. Honey may be substituted for the maple syrup. Pecans (or another type of nut) may be swapped in for the walnuts.
I prefer using rolled oats in my baked oatmeal for the best texture. Quick oats will work as well if that's all you have on hand, but use slightly less since they're packed more tightly when measured out.
The reason the milk and eggs should be at room temperature is because if they are cold, they will cause the coconut oil to resolidify. To quickly warm everything up, I usually just put the whole eggs in a bowl of warm water for a few minutes and zap the milk in the microwave for 20 to 30 seconds.
Reheat oatmeal by placing an individual serving on a plate, drizzling with a little milk of your choice, and then heating in the microwave for about 30 seconds.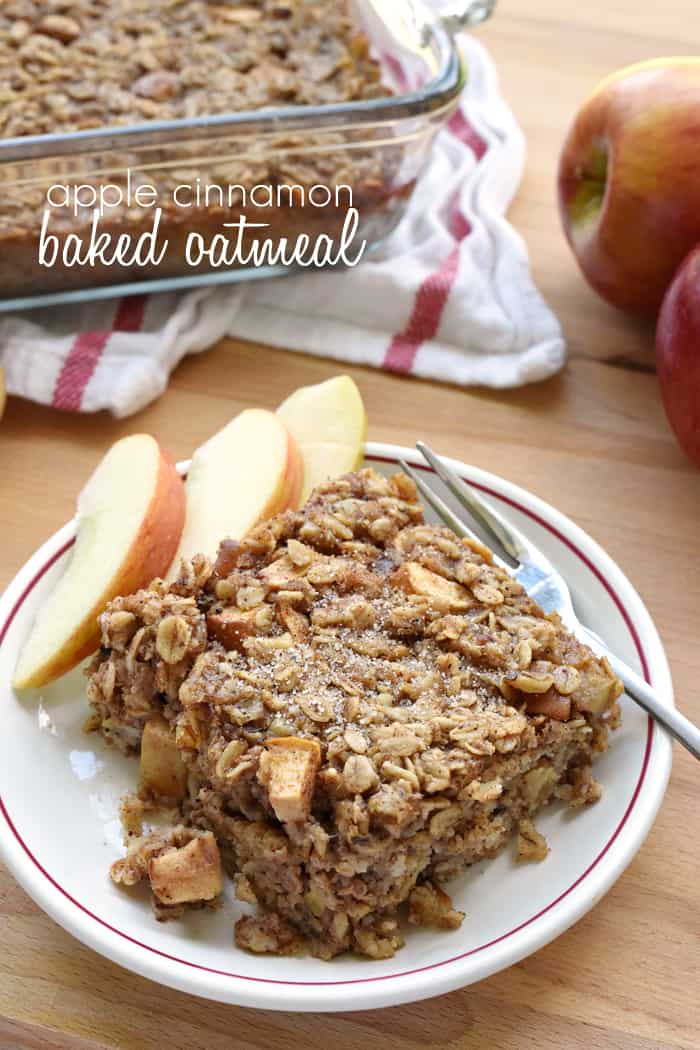 Baked Oatmeal Recipe
Apple Cinnamon Baked Oatmeal
Tender apples, warm cinnamon, and sweet maple syrup flavor this wholesome Apple Cinnamon Baked Oatmeal, sure to become a new fall favorite!
2
cups
rolled oats
1
cup
chopped walnuts
2
teaspoons
ground cinnamon
1/4
teaspoon
ground ginger
1/4
teaspoon
salt
1

cup

diced apples

,

about 1 medium apple
1/2
cup
applesauce
1/2

cup

milk OR almond milk

,

at room temperature
2

eggs

,

at room temperature
¼
cup
maple syrup
1
teaspoon
pure vanilla extract
1/4
teaspoon
pure almond extract
¼

cup

coconut oil

,

melted and slightly cooled
Instructions
Position rack in center of oven and preheat to 350°F. Lightly grease (or spray with nonstick cooking spray) an 8- by 8-inch glass baking dish.

In a large bowl, combine oats, walnuts, cinnamon, ground ginger, and salt. Mix in diced apples, applesauce, milk, eggs, maple syrup, vanilla, and almond extract. Stir in coconut oil until all ingredients are well combined.

Spread mixture into prepared baking dish and bake for 30 minutes or until set and light golden brown on top. Allow to cool in the baking dish for at least 5 minutes before slicing. Serve warm with optional garnishes, such as warm milk drizzled over the top and additional chopped walnuts.
Calories:
401
kcal
|
Carbohydrates:
36
g
|
Protein:
9
g
|
Fat:
25
g
|
Saturated Fat:
10
g
|
Cholesterol:
56
mg
|
Sodium:
130
mg
|
Potassium:
298
mg
|
Fiber:
5
g
|
Sugar:
14
g
|
Vitamin A:
125
IU
|
Vitamin C:
1.4
mg
|
Calcium:
86
mg
|
Iron:
2.1
mg
Source: https://www.fivehearthome.com/apple-cinnamon-baked-oatmeal/