No need to mess with bread dough for this impressive breakfast pastry! This Easy Apple Cream Cheese Danish is made with packaged crescent rolls making it a snap to get on the table.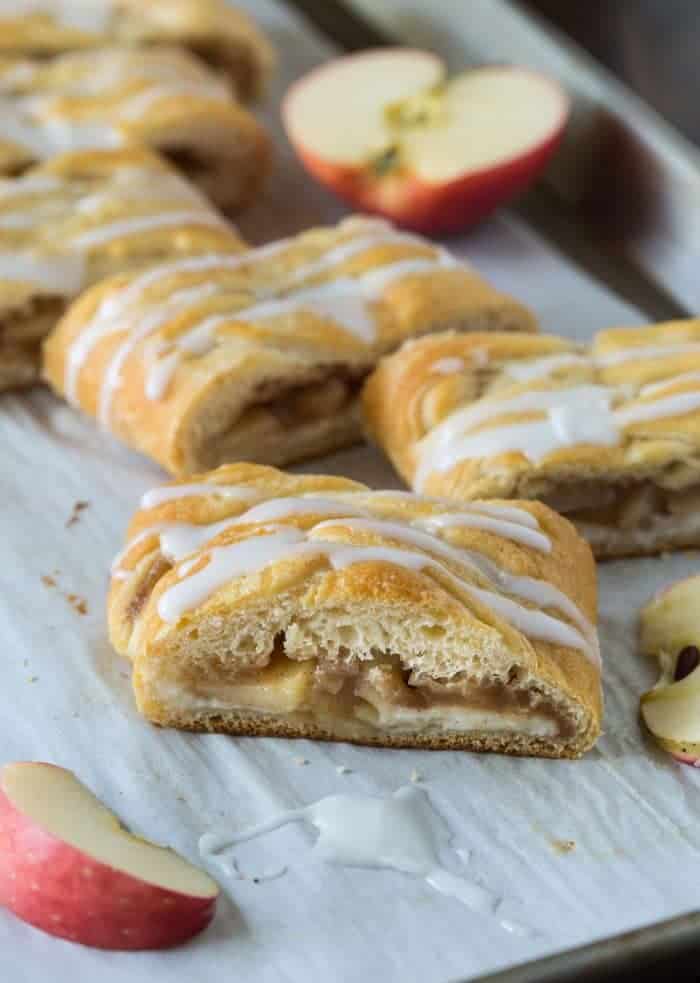 Apple anything is always a hit with my family and friends so it's always apple season in our house. And it's just an added bonus that my house smells like cinnamon and apples. That combination can bring a smile to anyone's face, especially when it involves this Easy Apple Cream Cheese Danish.
Each bite is filled with apples, cinnamon, and cream cheese making it the perfect sweet addition to any breakfast or brunch. And brunch isn't brunch when there aren't pastries involved.
Entertaining doesn't have to be stressful. I love recipes that look impressive enough to serve to guests but are easy enough that I make them for my family on a regular basis. This Easy Apple Cream Cheese Danish is the perfect example.
When my family oohs and aahs over the apples and cream cheese oozing out of the danish and asks if there is any left, I know I have a winner. Now when we have out of town guests or it's my turn to host brunch, this danish is always part of the spread. Complete your menu with our favorite Overnight Fireman's Breakfast Casserole, some fruit, and a DIY Bloody Mary Bar and your brunch is set! And all of it can be done ahead of time making hosting easy like a Sunday morning.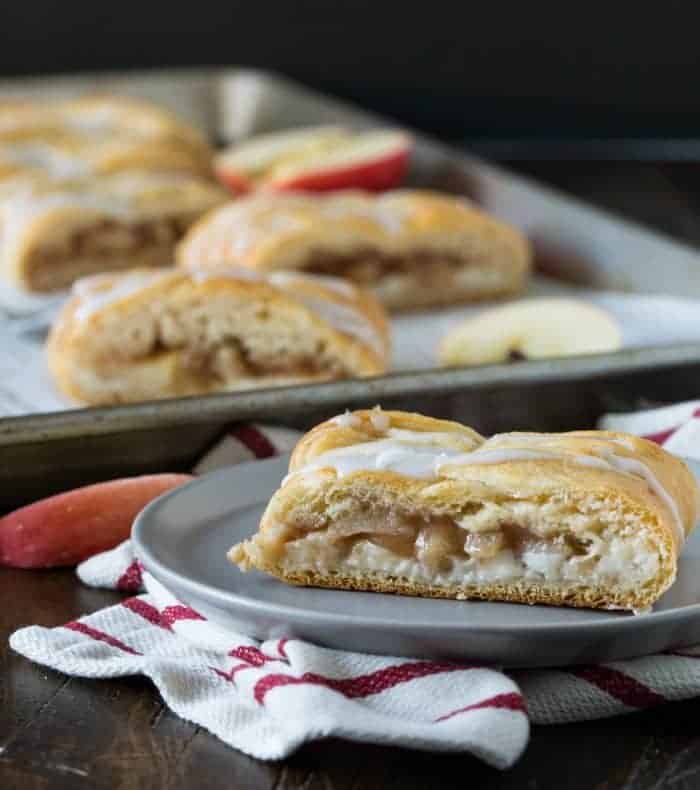 Easy Apple Cream Cheese Danish
Ingredients
1 package of 8 crescent rolls or crescent roll sheet
Cream Cheese Filling:
6 ounces cream cheese, softened
1/3 cup sugar
1 tablespoon lemon juice
1 teaspoon vanilla
Apple Filling:
4 tablespoons butter
3 apples, peeled and diced (I used Granny Smith)
2 tablespoons flour
1/2 cup sugar
1 teaspoon cinnamon
2 - 4 tablespoons water
Frosting:
1 cup powdered sugar
2 - 3 tablespoons water
Instructions
Preheat oven to 350 degrees and line a jelly roll pan with parchment paper. Set aside.
To make the cream cheese filling:
Mix cream cheese, sugar, lemon juice and vanilla until smooth and set aside.
To make the apple filling:
In a medium pan, melt butter over medium heat. Add apples, flour, sugar, cinnamon and 2 tablespoons water and cook until apples are soft, about 7 minutes. Add more water one tablespoon at a time if apple mixture gets too thick. Remove from heat and cool slightly.
To make the danish:
Place crescent roll dough on lined jelly roll pan, making a rectangle. Use a rolling pin to seal seams and thin dough out slightly. Make 2 inch diagonal cuts about an inch apart on the long sides of the dough.
Spread cream cheese filling in the center of the dough. Spoon apple filling on top of cream cheese filling.
Pull the top and bottom of dough over filling and then pull the dough from the sides, creating a braided look. Bake for 20 minutes or until golden brown. Cool for at least 20 minutes.
To make the frosting:
Mix powdered sugar with water in a small bowl until smooth. Add additional water if needed to get to desired consistency. Drizzle over warm danish.
Notes
Serve slightly warm, at room temperature or cold.
Source: https://www.garnishwithlemon.com/easy-apple-cream-cheese-danish/