Happy Fall y'all! I can't believe it's already here. I'm so excited for cooler weather and all the delicious Fall flavors!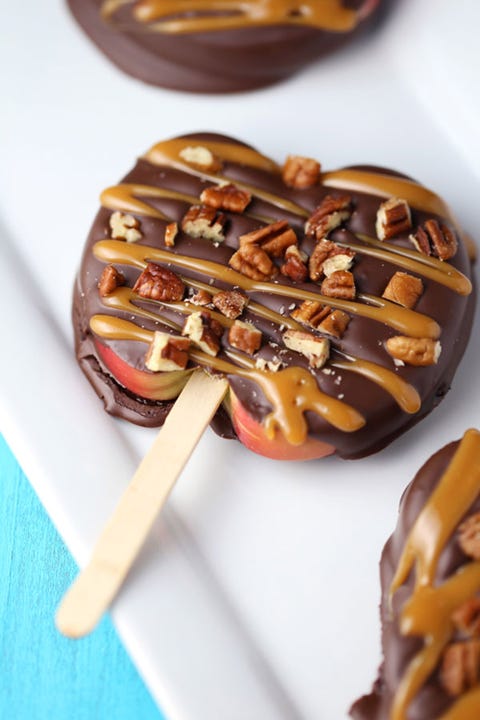 That brings me to today's recipe which is made with one of the best fruits of Fall – APPLES! And what's better than a candied apple!
Have you ever had a candy apple but wished there was a little more "candy" in each bite? Problem solved! These candy apples are covered with all of the ingredients in my favorite candy – chocolate turtles.
And I love that there are just 5 ingredients in this recipe. Keeping it simple is always the best way to go when possible!
All you will need to make these Chocolate Turtle Apple Slices is 2 large apples, 3 1/2 cups semi-sweet chocolate chips, 1 tablespoon coconut oil, 1 cup melted caramels and chopped pecans.
HOW TO MAKE CHOCOLATE TURTLE APPLE SLICES
Slice apples and add popsicle stick
Dip apple slices in melted chocolate mixture
Drizzle with melted caramels
Sprinkle with chopped pecans
I chose Fuji apples because they are extra fat and very large. Slice apple into 1/2″ pieces. Microwave chips in a microwave safe bowl for about 2 minutes. Stir in coconut oil and keep stirring until smooth. Cut a little slit in the bottom of each piece of apple and insert a wooden popsicle stick.
Dip apple slices into chocolate and place on a parchment lined cookie sheet with raised edges (also called a half-sheet pan).
Drizzle with melted caramel.
Sprinkle with chopped nuts, then refrigerate for about 1 hour.
They are ready to enjoy! Chocolate Turtle Apple Slices are so delicious and a perfect treat to kick off this Fall season!
Chocolate Turtle Apple Slices
Ingredients
2

very large Fuji apples

3 1/2

cups

semi-sweet chocolate chips

(I used Nestle)

1

tablespoon

coconut oil

(I used refined coconut oil so it doesn't taste like coconut.)

1

cup

caramels, melted

(I used Kraft caramels)

Chopped pecans
Instructions
Slice apples into 1/2" pieces. (It's really important to have a good quality chef's knife. I love Wusthof.) With a knife make a little slit in the bottom of each apple slice to make it easier to insert a popsicle stick. Insert a popsicle stick into each piece of apple. Set aside.

In a medium bowl, melt chocolate chips in the microwave on high for about 2 minutes (in 30 second intervals, don't overheat because the chocolate will burn).* Stir in coconut oil until smooth. Dip apple slices in chocolate and place on parchment lined cookie sheet. (I used a 13"x18" half sheet pan.)

Place caramels in microwave safe bowl and microwave on high for 45-60 seconds.* Do NOT overheat. Stir until smooth. Drizzle melted caramel over chocolate and sprinkle with nuts.

Refrigerate for about 1 hour. Serve and enjoy immediately. Apples are best the first day. Store in refrigerator.

*For best results, follow the chocolate chip package instructions for melting chocolate and same for caramel. Follow the caramel package instructions for melting caramels.

Note: If you're concerned about biting into an apple seed, just remove them before dipping the apple slice in chocolate.
Nutrition Facts
Chocolate Turtle Apple Slices
Amount Per Serving (1 g)
Calories

352
Calories from Fat 198
* Percent Daily Values are based on a 2000 calorie diet.
Source:
https://www.momlovesbaking.com/chocolate-turtle-apple-slices/