Ingredients
6
small sweet Italian sausage links (about 1 1/2 pounds total)
2
Pink Lady apples, halved
1/2
head red cabbage, cut into 1/2-inch-thick slices
freshly ground black pepper
2 tbsp.
fresh cider vinegar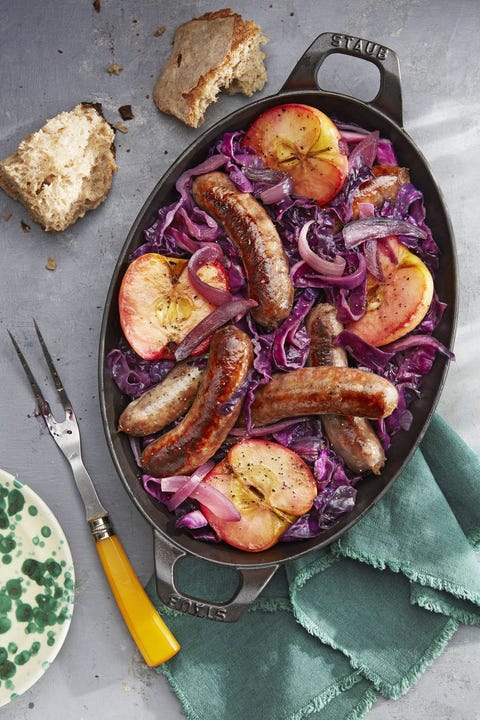 1. Heat oil in a large cast-iron skillet over medium-high heat. Add sausage and cook, turning occasionally, until golden brown, 6 to 8 minutes; transfer to a plate.
2. Reduce heat to medium and add apples, cut-sides down. Scatter onion and cabbage around apples. Season with salt and pepper. Cook, stirring onion occasionally, until apples are golden brown, 3 to 4 minutes.
3. Flip apples. Return sausage to skillet, nestling among vegetables. Add cider and vinegar. Simmer, rotating and turning sausages occasionally, until sausages are cooked through and apples are tender, 18 to 20 minutes.

Source: https://www.countryliving.com/food-drinks/a23336101/seared-sausage-with-cabbage-and-pink-lady-apples-recipe/