Instead of spending all your time chopping, spiralize those apples for a quick and healthy Spiralized Apple Crumble. With curly apple noodles and a crispy crumble layer this apple crumble recipe will be a huge dessert hit!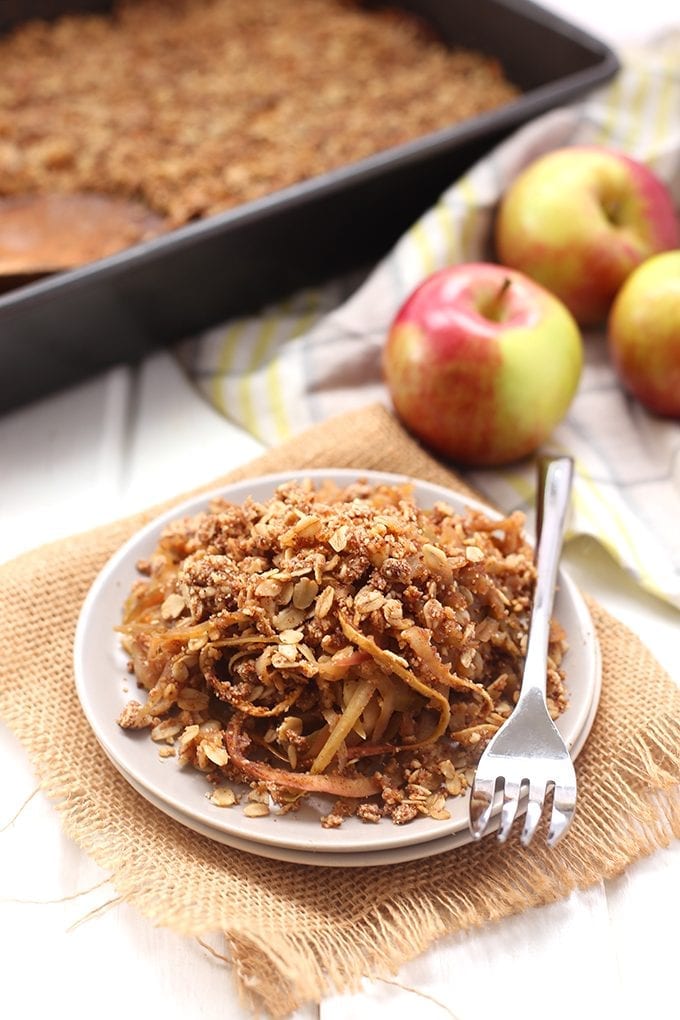 I'll admit that when I came up with this recipe I really thought that spiralizing the apples was kind of gimmicky. It spiced up boring old apple crumble by infusing a little trendiness into it. Little did I know that I'd actually be creating a massive life hack.
Spiralizing is all the rage these days. It get it, low carb noodles?! Count me in. Okay not actually, I like pasta too much and I totally use my spiralizer more for making curly fries than anything else, but basically if you aren't spiralizing- who are you?! So to keep up with what's "so hot right now", I decided to spiralize my apples in apple crumble just to see what would happen. Well the sky didn't come crashing down but I did cut my crumble-making time in half.
Why Make A Spiralized Apple Crumble?!
Crumble is one of those desserts that's amazing but really is the lazy girls guide to potlucks. It's guaranteed to be a hit, so easy to make and requires very few ingredients. But for a simple dessert, the last thing you want to do is spend half your day peeling and chopping apples.
This spiralized apple crumble is literally the answer to all of your prayers (because I know you're all up at night praying that someone develops a crumble hack…). I made the executive decision that peeling is unnecessary because peels are delicious and full of fiber and there's really no reason they shouldn't be.
Then when it comes to chopping, you won't be needing to deal with that anymore because you can spiralize an apple in full! It takes about 20-30 seconds per apple to spiralize, which means you now have more time for crumble eating instead of crumble baking.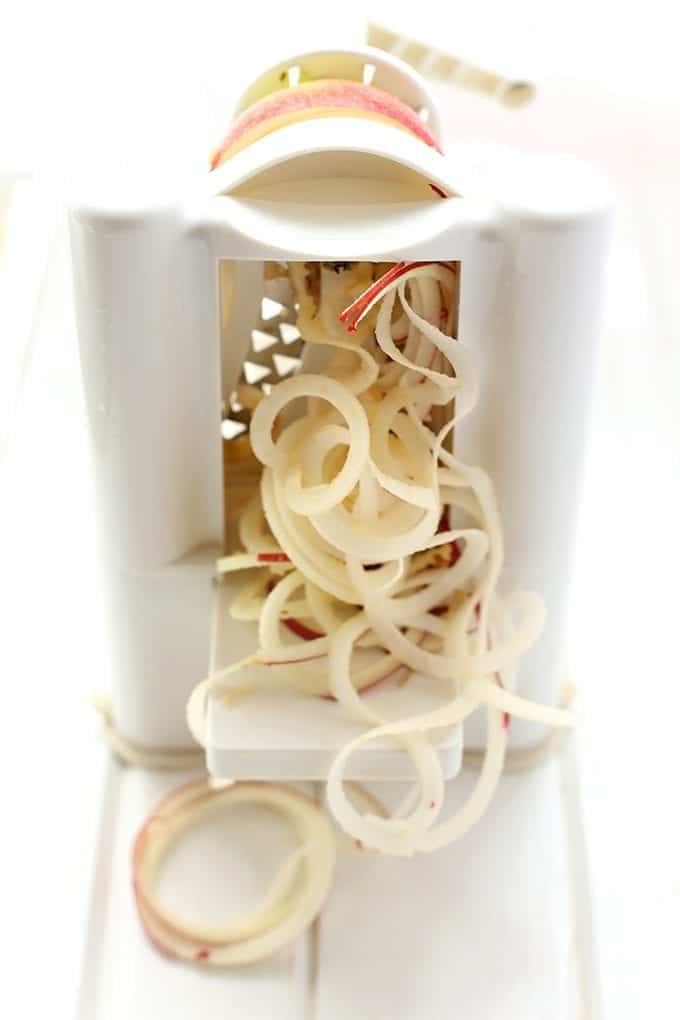 Is this a Healthy Apple Crumble?
You betcha! (<–can you tell my husband is Minnesotan?!). Not only is this apple crumble spiralized, but it's also made with healthier ingredients. Here are the healthy swaps I made:
Coconut sugar for brown sugar
Almond Meal in place of white flour
Coconut oil instead of butter
The hardest part of the recipe is the torture of how delicious your house will smell while it's baking when all you really want to do is dig right in. But 40 minutes later you grab that fork, some delicious vanilla bean ice cream and go to town. You won't regret it!
Ingredients
9

medium red apples of choice – spiralized on the 2nd largest setting*

1 tsp

cinnamon

1/3 cup

coconut sugar (or brown sugar)
juice, ½ orange
zest, 1 orange
For the crumble:
1 cup

almond meal

1 cup

rolled oats

1/3 cup

coconut sugar (or brown sugar)

1 tsp

cinnamon

1/4 cup

coconut oil (room temp – not melted)
pinch of salt
optional: pinch of nutmeg
Instructions
Preheat oven to 350 degrees F.
Spray a 9 x 13 inch baking dish with coconut oil spray.
Place spiralized apples in a large bowl and top with cinnamon, coconut sugar, orange juice and zest.
Spread out in baking dish.
Add almond meal, rolled oats, coconut sugar, cinnamon, salt and nutmeg if using to bowl and stir.
Place coconut oil in bowl and using hands mix crumble mixture together until crumbly. Don't be afraid to get in there and dirty!
Sprinkle crumble mixture on top of apples.
Bake for 40 minutes.
Serve warm.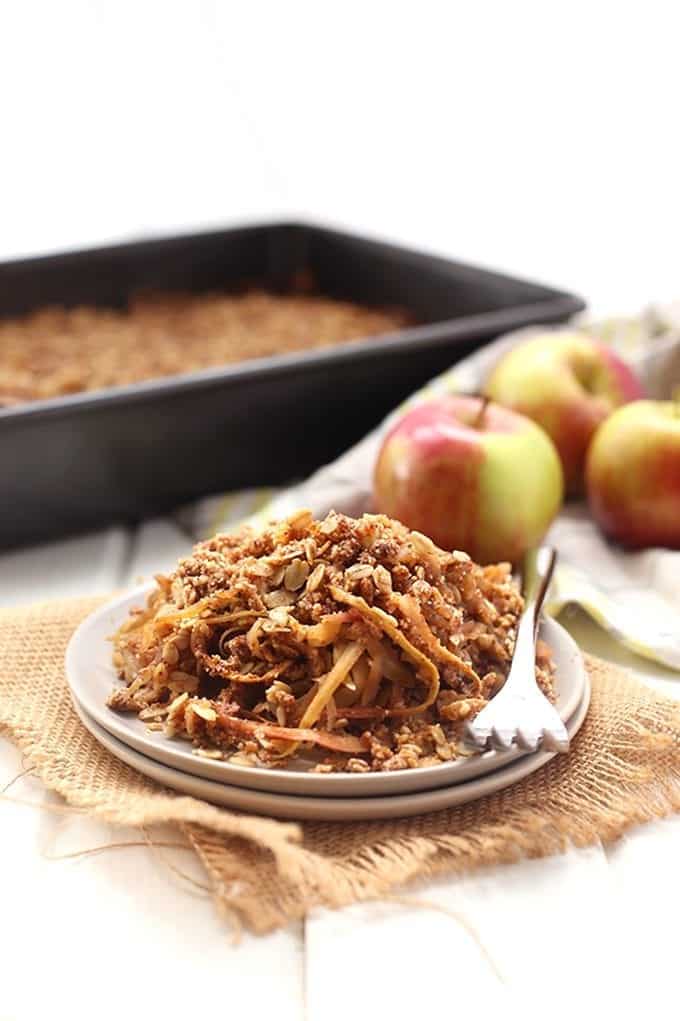 Source: https://www.thehealthymaven.com/spiralized-apple-crumble